December 1, 2013
Where Manager is printed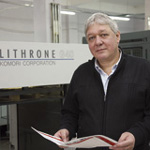 Roprint is now a proud owner of two heatset web offset machines, sheet-fed Komori Lithrone G540, the latest digital print press Xerox Colour J75 – the first in Bulgaria, и a book printing press Zyrkon 66.
Manager's loyal readership knows much about our magazine and little about the printing house where it is produced. Now there is a good occasion to tell you more about it – on "5007" Street in Iskar region the new sheet-fed Komori Lithrone G540 press, the digital Xerox Colour J75, the Zyrkon 66 book printer and the respective devices for finishing processes are already working at full throttle. For the uninitiated, the address is at the far end of the city for magazine and book publishing insiders and ad agency marketing specialists it is more than a known entity. The destination's subsequent fame is due to Roprint's quick ascension to becoming one of the country's top players in heatset and sheet-fed offset.
Its activity begins in early 2008. "We started out with one heatset web offset press, which we paid off during the recession. We now own two," remembers Emil Petkov, owner and CEO of the company. Journalist by trade and spirit, he is one of the founders of the "168 Hours" press group. Now, he is, in his words, a printer by circumstance. Today his printing house has two Japanese heatset web offset Komori presses, 5-colour 70x100cm and 4-colour 50x70cm sheet-fed presses, digital press, book printing press, Kolbus hot melt perfect binding line, Muller Martini saddle-stitchers and packaging machines. "These extensive facilities make Roprint universal, allowing us to provide a complete range of printing services," adds Commercial Director Diana Ninova.
Roprint is geared towards magazine production – besides Manager, some of the highest quality magazines are printed here – Eva, Idealen Dom, Biograph, tourist company catalogues, weekly editions, publicity materials of commercial chains, flyers, inserts. The management's ambition is to widen its product range, beginning with printing academic literature and fiction.
In-house, everyone is talking about the newest addition – the 5-colour Komori Lithrone G540. It is part of a large-scale project for technological renovation and modernization of the printing house: the €1.4m investment as part of the EU's operational programme "Development of the Competitiveness of the Bulgarian Economy," with the value of the press equaling two thirds of the overall capital investment. Besides that, the various departments were further equipped with a digital press, a guilltoine and a folding machine. The newly installed Komori has taken up a space especially prepared for it as the first production begins. "In the last three years, this is the only investment of this kind in our sector. With Komori Lithrone, Roprint becomes one of the largest printing houses nationally. With its addition, we now cover the medium circulations niche and have closed the cycle of printing facilities within the company. Our competitive advantage to all other printing houses in the country is that we are now able to offer our clients the printing of 1 unit – via the digital machine, the circulations for the sheet-fed machines, as well as of a million-unit circulation – via the 2 heatset offset presses, and maintaining a very high quality at competitive prices," explains Commercial Director of Roprint Diana Ninova. She adds that the company is widening its range of offered services with book printing as well. "Our primary activity remains heatset offset printing but we are committed to continue developing and meeting the demands of the market and our clients who unfortunately during the recession tighten circulation. This is where the 100x70cm sheet-fed offset press comes in, covering precisely this market segment," adds Ninova.
In comparison with Komori Lithrone, the digital Xerox Colour J75 is positively tiny. Compact, sleek and modern, it is installed in a custom-climatized room. The first and currently only digital machine of its kind in Bulgaria, all of its processes are managed by an in-built computer. The technology resembles that of a printer and allows customization of materials, for example printing vouchers with different numbers or images and photographs with barcodes. "The machine is latest generation, allowing us to make a significant step within the territory of digital print and to widen our portfolio. Offering unwavering quality, we build and maintain strong relationships with our clients," continues Emil Petkov.
During a recession, only the fittest survive. "Roprint is one of the few printing houses in the country which managed to keep their clients and grow," he adds. "It was a genuine challenge to produce high quality products at competitive prices," Ninova confirms.
"I rely on my team and on consistent professionalism every day. I prefer to work with adherents, with people with whom we share unspoken understanding," shares Petkov in regarding to his management philosophy. The company has around 90 employees, with 15 of them in administration, the rest – in the printing house divided into heatset offset, sheet-fed offset, and finishing processes departments and storage. "Four teams service each machine. Thus, we ensure a continued 24-hour cycle 7 days in the week," Production Director Vladimir Popov tell us.
Emil Petkov looks forward optimistically. "I expect growth of circulations and magazine volumes. Our idea is to be the place where higher-circulation magazines and higher quality publicity materials get printed. Three things distinguish Roprint: working with the latest polygraphic technology, offering flexible organization and tailored approach to clients."
Manager certainly confirms that.
By Svetlana Todorova; Photos: Yulian Donov
Published in Manager, issue 182, pp. 90-91, December 2013